Content
YAMAHA YG100 LED Chip Shooter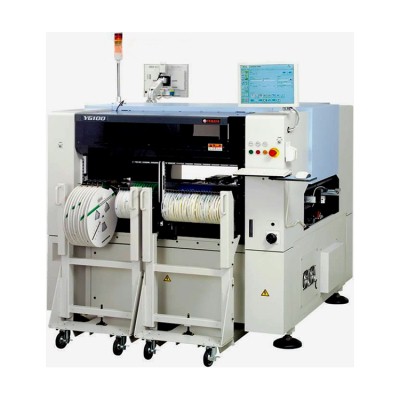 ❙ Features
1. YAMAHA YG100 Machine is YAMAHA company specifically for high-speed universal machine output of a high efficiency, high-performance, high-precision Mounter, YG100 can simultaneously mount different types of special-shaped components, Machine Head all using Yamaha Company's latest design of the head structure, All suctionnozzle up and down control all by electric motor control machine mount accuracy than previous memory has a great improvement
2. YAMAHA YG100 high-speed mounting chip, universal type, high-precision, high-speed modular mounter, high rigidity dual drive structure,
3. High-performance servo system, high-resolution digital multi-vision camera, original multiple precision calibration system.
❙ Specification
Model

YAMAHA

YG

100

PCB size

M - Type: L460 x W330~L50 x W50mm / t = 0.4~3.0mm

M - Type: L460 x W440~L50 x W50mm / t = 0.4~3.0mm

Mounting speed

Chip:

24000CPH;

IPC 9850:

17700 CPH

Mounting accuracy

(Absolute precision) Chip:±0.05mm (3σ)/QFP:±0.05mm (3σ)

Equipment Parts Height

15mm

Power supply

3-phase AC 416~200 v,v±10%,50/60hz,4.8kva

Dimension

1,650 (w) x 1,562 (W) x 1,850 (H) mm

Weight

1630kg
❙ Related keywords
Pick and Place Machine,YAMAHA Pick and Place Machine,YAMAHA SMT Mounter,YAMAHA SMT Pick and Place Machine,Pick Place Machine,YAMAHA Chip Mounter,YAMAHA Shooter,YAMAHA SMT Placement,YAMAHA Chip Placement,High Speed Chip Shooter,YAMAHA Chip Shooter,SMT Chip Shooter,YAMAHA SMT,YAMAHA SMT Machine,YAMAHA M10,YAMAHA M20, YAMAHA S20,YAMAHA YS12,YAMAHA YS12F,YAMAHA YS24,YAMAHA YS24X,YAMAHA YSM10,YAMAHA YSM20,YAMAHA YSM20R,YAMAHA YSM20WR,YAMAHA YSM20W,YAMAHA YSM40,YAMAHA YSM40R,YAMAHA YC8,YAMAHA ∑-G5SⅡ,YAMAHA Σ-F8S,YAMAHA YG100.
❙ Main keywords
Reflow Oven,Pick and Place Machine,SMT Machine,SMT Line,Wave Soldering Machine,Reflow Soldering Oven,SMT Equipment,SMT Pick and Place Machine,Chip Mounter,PCB Cutting Machine,SMT Reflow Oven,Pick & Place Machine,SMD Soldering Machine,SMT Aoi,SMT Conveyor, SMT Solutions, Chip Shooter, PCB Cleaning Machine, Reflow Machine, PCB Soldering Machine, SMT Assembly Line, SMT Stencil Printer, PCB Reflow Oven, Reflow Soldering Machine, SMT Oven, Pick n Place Machine, SMT Production Line, Solder Paste Printer Machine, SMT Screen Printer, LED Pick and Place Machine, SMT Line Machine, LED Production Line, SMT Nozzle Cleaning Machine, LED TV Production Line.
❙ Video