How to operate the safety interlock of Hanwha Chip Mounter correctly?
From:    Author:    Publish time:2021-07-22 12:18    Clicks:0
This section describes the operation of safety interlocks manipulated to stop the machine
immediately under an emergency situation or for maintenance purposes.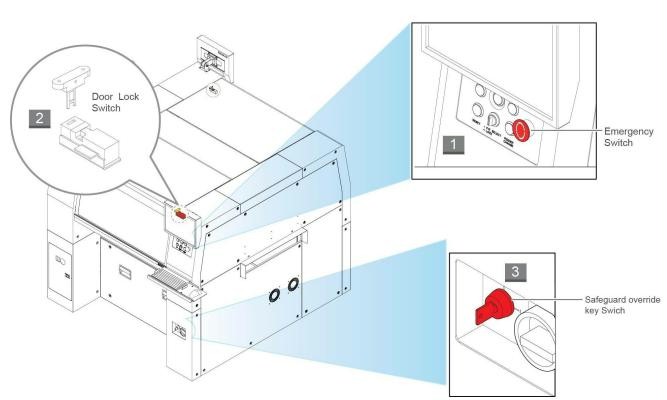 1) EMG (Emergency Stop) switch
This is an emergency stop switch. Operation of this machine is immediately suspended if this switch is pressed in case of an emergency.
Supply of all powers except for the power to a computer is ceased. The emergency stop status can be released by turning the 'EMG' switch in the direction of the arrow and pressing the RESET button.
Warning
When the emergency shutdown has been applied, the power supply to all of the machine's servo motors is turned
off. However, the power supply to other components and devices remains turned on. Exercise care when taking measures against an error for the section to which power is supplied.
2) Door Lock switch
If the door is open while this machine is running, the door switch is activated and the system comes into the emergency stop status. The emergency stop status is released if the door is closed. In order to resume the operation, press 'READ' button on the operation panel to release the emergency status, then press 'Start' button.
Warning
If the safety sensor of the door is cancelled arbitrarily, the machine will not stop even though the door is opened during operation, which could cause injury. The safety sensor of the door must not be cancelled arbitrarily.
3) Safeguard override key switch
This is used for the door interlock bypass. It should be used limitedly only when performing initial setting or maintenance of the machine.
Danger
The Safeguard override key switch must be used by the designated responsible personnel. It must be carefully used for machine operation.
Ø About Warranty
The warranty is issued to cover the following machine faults and malfunctions.
ü What is covered by the warranty
If any part of the machine fails to function properly under normal conditions of usage due to defects in material or workmanship, it will be repaired by Hanwha Techwin Co., Ltd. at no charge for either parts or labor.
ü Time period of the warranty
The term of this warranty shall expire for any of the following cases:
² 25 months after delivery from the factory
² 2 years after installation
ü What is not covered by the warranty
Any of the following cases are not covered by this warranty:
² Data lost due to HDD damage. (Please back up the data periodically.)
² Malfunction of the system due to the execution of a program regardless of machine operation, as well as data damage due to infection by any computer viruses.
² Damage due to due to long-term use or defects due to the wear arising from normal use (natural fading of coating and plating, wearing-out of parts, etc.).
² Delicate changes which do not affect the functional quality (such as noise from a controller, sound of a rotating motor, etc.).
² Defects due to ambient conditions (moisture, impurities, dust on the machine, oil mist, etc.).
² When failure occurs to the machine due to customer's mistake. Defects resulting from the following cases are also not covered by this warranty:
² Natural disasters such as earthquake, typhoon, flood and lightning strike, or accident, fire, etc.
² Modification which was not approved by our company or agents.
² Failure to back up the data stored in the machine.
² Use of parts or lubricants other than those designated.
² Insufficient or defective maintenance or inspection.
² Adjustments performed by persons other than designated agents.
Keywords:
SMT pick and place machine, SMT Mounter, Chip Mounter, Yamaha Chip Shooter, Yamaha Chip Placement, YAMAHA M10,YAMAHA M20,YAMAHA YSM20,YAMAHA YS12,YAMAHA YS12F,YAMAHA YS24,YAMAHA S20,YAMAHA YSM10,YAMAHA YS24X,YAMAHA YSM40,YAMAHA YSM20R,YAMAHA YSM40R,YAMAHA YC8,YAMAHA YG12F,YAMAHA YSM20WR,YAMAHA YSM20W,YAMAHA ∑-G5SⅡ,YAMAHA Σ-F8S, JUKI Pick and place Machine,JUKI RS-1R pick and place machine, JUKI RX-7R pick and place machine, Samsung Pick and Place Machine, Hanwha SM481 Plus Pick and Place Machine, SMT482Plus, SMT 471Plus,Yamaha Pick and Place Machine, Panasonic Pick and Place Machine, FUJI Pick and Place Machine, Siemens Pick and Place Machine
I.C.T is a manufacturer of SMT machines. It mainly provides customers with SMT production lines including SMT Stencil Printers, Pick and place machines, Reflow Oven, AOI Machine, Wave Soldering Machine and PCB Handling Machine etc.
I.C.T has more than 25 researches on SMT and DIP technology, for the world Customers provide SMT total solutions. There are successful cases of SMT technical team in Asia, Europe, America, Africa, and Australia.
I.C.T provide SMT solutions at various stages according to the different needs of customers. I.C.T is not only a provider of SMT equipment and technology, but also is the customer's escort in the field of SMT and DIP.
Welcome more people to discuss with us about SMT technologies and solutions, please contact us for more information: WhatsApp/ Skype / WeChat: +86-13670124230,Email: etasmt@foxmail.com