YAMAHA Pick and Place Machine,YAMAHA SMT Mounter,YAMAHA SMT Pick and Place Machine,Pick Place Machine,YAMAHA Chip Mounter,YAMAHA Shooter,YAMAHA SMT Placement,YAMAHA Chip Placement,High Speed Chip Shooter,YAMAHA Chip Shooter,SMT Chip Shooter,YAMAHA SMT,YAMAHA SMT Machine,YAMAHA M10,YAMAHA M20,YAMAHA YSM20,YAMAHA YS12,YAMAHA YS12F,YAMAHA YS24,YAMAHA S20,YAMAHA YSM10,YAMAHA YS24X,YAMAHA YSM40,YAMAHA YSM20R,YAMAHA YSM40R,YAMAHA YC8,YAMAHA YG12F,YAMAHA YSM20WR,YAMAHA YSM20W,YAMAHA ∑-G5SⅡ,YAMAHA Σ-F8S,YAMAHA YG100.

Model:YAMAHA YC8
Brief:
1. Maximum Components Size : 100 x 100mm, Heights : 45mm
2. Capable heavy components up to 1kg Supports press fitting of components
3. Compact machine width of 880 mm allows for more efficient use of factory floor space
4. Utilizes the ATS15 automatic tray supply unit capable of handling up to 15 trays
5. Compatible with the "SS Feeder" and "ZS Feeder"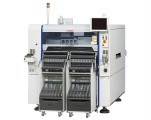 Model:YAMAHA YSM20WR
Brief:
Fast and flexible Yamaha pick & place equipment, Yamaha chip mounter, Yamaha surface mounter. Any item can be produced.

Model:YAMAHA Σ-F8S
Brief:
1. The "1-head solution" rotary head provides. Speed, versatility and high operating ratio.
2. Fastest speed in its class! Produces 150,000 CPH with 4-beam & 4-head
3. Direct drive head gives high-speed & high-accuracy
4. The Super Loading Feeder totally innovates components supply tasks!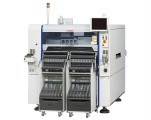 Model:YAMAHA YSM20W
Brief:
1. Caters effectively to a wide range of production processes ? it is also the world's fastest in its class*
2. The "1 head solution" aims to deliver an ideal mounter that provides both high speed and versatility!
3. Wide support capability turns the concept of "Limitless EXpansion" into a reality!
4. Numerous functions to support high-quality mounting are included as standard features.
5. Feeders and supply devices offering a high degree of freedom
* Components mounting speed (CPH) for a surface mounter with the 2-beam, 2-head layout. Based on Yamaha survey as at May 2014.

Model:YAMAHA ∑-G5SⅡ
Brief:
1. Two new head types in an evolution of the "1-head solution" to achieve high productivity: Accommodates super-small 0201 (0.25 × 0.125 mm) size components and large components
Extended detection range of components held for better mounting 2. quality
3. Larger internal buffer size to reduce feeding loss with large PCBs
4. Further detail revisions and refinements for added reliability
5. Compatibility with previous models

Model:YAMAHA YSM40
Brief:
Applicable PCB: L700×W580mm to L50×W50 mm,Mounting capability: Over 100,000 CPH(using 4-beam format with high-speed head/multi-head), Mounting accuracy: Absolute accuracy (μ+3σ): ±0.04mm/CHIP, ±0.04mm/QFP, Repeatability (3σ): ±0.03mm/CHIP, ±0.03mm/QFP

Model:YAMAHA YRM20
Brief:
The 1 head solution has reached an ultimate stage. An all-around surface mounter delivering both overwhelming productivity and flexibility!

Model:YAMAHA YSM10
Brief:
YSM series entry model mounter that achieved both the world' s fastest speed and versatility in its class worldwide!